What is Moringa Oliefera
Moringa Oliefera is the world's most powerful and nutritious Super-Food that is transforming the lives of millions around the world. It is a relatively natural concept in our world, only rediscovered in the last few decades. Since then, multiple uses of this 'miracle tree' has been found, benefits that stretch from nutrition to health, beauty to hygiene, detoxification to weight loss, and many more. Research is still being done on many more ways that the various parts of this plant can help human kind, and there is more knowledge to come our way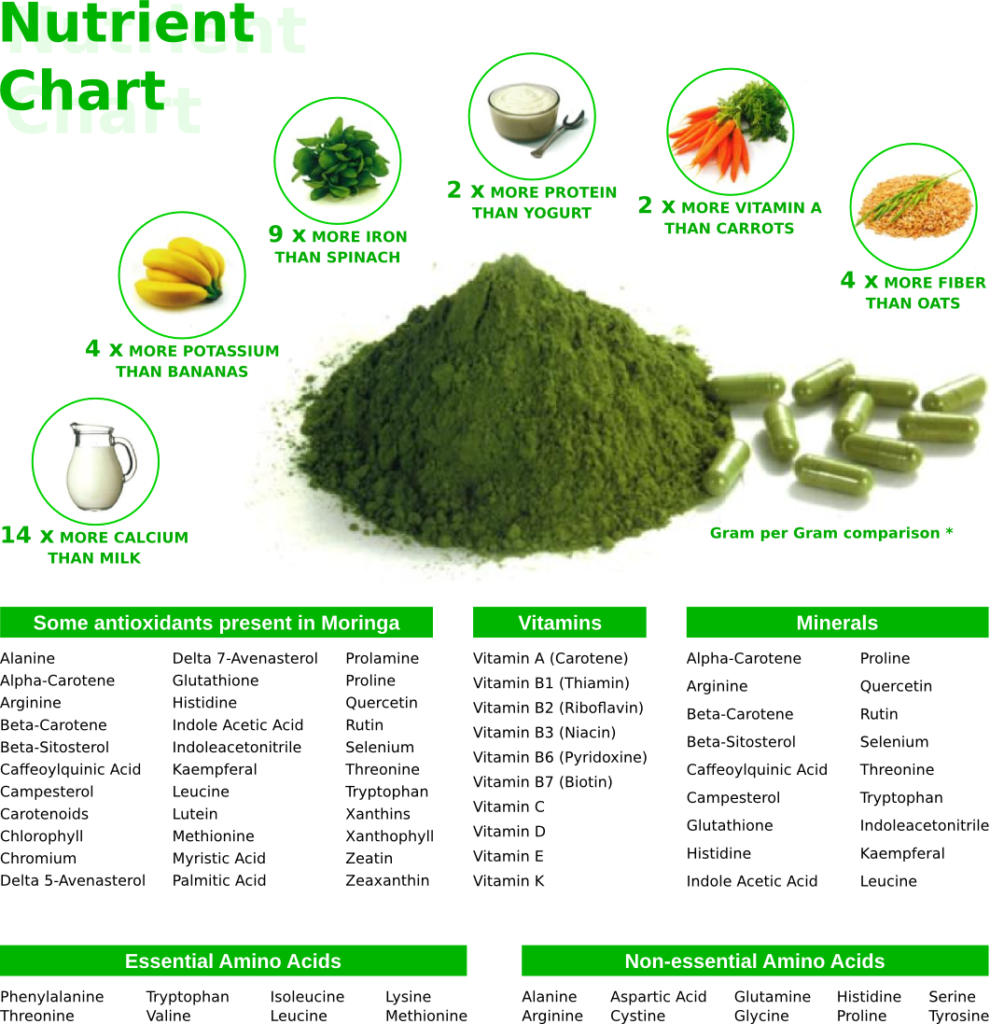 The way the modern population gouges on processed and packaged food, carbohydrates and unhealthy fats effect greatly on our physique – greatly and negatively. Not only does what we eat cause obesity and heart problems, but also problems with our blood pressure, cholesterol, nutrition deficiency, and even some mental and emotional distress. Moringa Oleifera is one such gift of nature to humankind – a super food that almost has all the answers. If this is the first time that you are hearing of Moringa Oleifera, it is extremely normal. This is not a food that is as common as carrots or oatmeal, especially not in the western world, but it is extremely beneficial to the human body and to our health.
How can Moringo Organics help you
Ours' is the world's first organization that has transformed the power of this magical herb (Moringa) to a health solution technology. Along with a host of other extremely rare and potent herbs our resident scientist Dr Karen Viera has come up with a unbelievable formulation that poses to transform human health for the better. We at Moringo formulated a combo of perfectly pure and natural ingredients adding scientific research to revolutionize the health products field. With our Moringo Nutramatrix formulation we have created a unique product that packs a high level of therapeutic value
In fact Moringo Nutramatrix is the world's answer to the next level of food technology. It has been developed to provide multiple health benefits. From "Seed to Shelf," our organization ensure purity, potency, safety, and availability in our herbal extracts.
What are the ingredients in this formulation
Moringa Nutramatrix packs in a host of ingredients that gives the final product a high of synergy to transform your health forever. With decades of Research from Ms Karen Viera, the world's renowned Food Scientist, our organization was quick to license this most amazing power pack of nutrients on its research and discovery.
Just 4 – 6 capsules of Moringa Nutramatrix packs in the following:
Essential Vitamins and Minerals
200 Nutrients
19 Amino Acids
52 Anti Oxidants
84 Trace Minerals
13 Essential Vitamins
3 Essential Fatty Acids
42 Anti Inflammatory
20 Essential Minerals
Vitamin C
Vitamin B12
Potent Herbs
Moringa Oliefera
Oregano Vulgare
Rosemary
Pomegranate Peel
Piper Nigrum
Asphaltum